Instant Pot Spinach and Artichoke Dip
Disclosure: This post is sponsored by Cabot Creamery. As always, I only partner with brands that I love and truly believe in, allowing me to create more quick and easy recipes to get us through the week without breaking the bank. All opinions expressed are my own.
Seriously the EASIEST way to make this! Only 3 min in the IP using frozen spinach. No need to thaw and squeeze dry!
We all need that crowd-pleasing appetizer, the one that feeds an army but doesn't require too much work. Oh, and preferably one that doesn't require the oven.
Because, hello, we're in the summer heat!
That's where this spinach and artichoke dip comes in.
It is by far one of the easiest dips I have ever made with the help of the Instant Pot. It takes care of all the work for you in just 3 minutes using frozen chopped spinach that doesn't require any kind of thawing or squeezing dry! This is too easy, right?
Once you release the pressure, you get to the best part – you get to stir in all that glorious Cabot cheese!
Cabot, owned and operated by real farmers, has been making my favorite cheddar cheeses since 1919. They are 100% naturally lactose-free, aged, and gluten-free. And they are 100% key to yield the creamiest, cheesiest dip of your lives.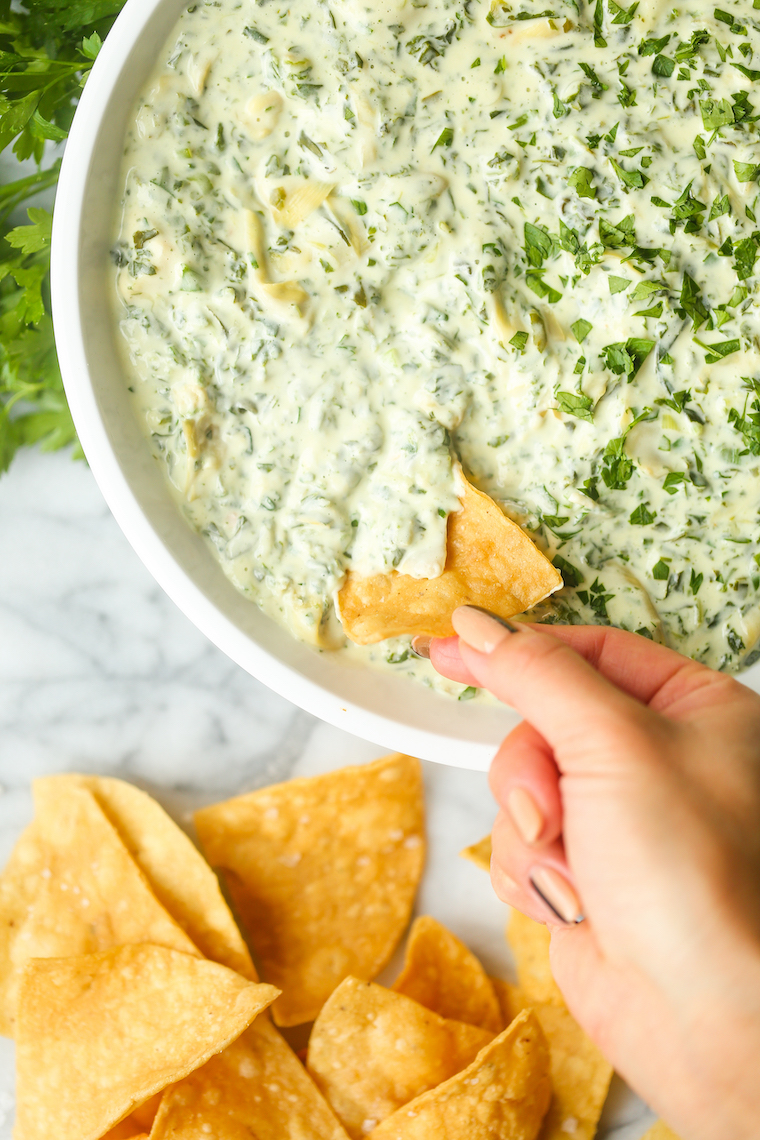 Instant Pot Spinach and Artichoke Dip
Seriously the EASIEST way to make this! Only 3 min in the IP using frozen spinach. No need to thaw and squeeze dry!
20 minutes
20 minutes
Ingredients:
1 (10-ounce) package frozen chopped spinach
1 (14-ounce) can quartered artichoke hearts, rinsed and drained
1 (8-ounce) package cream cheese, cubed
1 cup sour cream
1/2 cup chicken stock
4 green onions, thinly sliced
3 cloves garlic, minced
1/2 teaspoon kosher salt
1/4 teaspoon crushed red pepper flakes
2 cups shredded Cabot Seriously Sharp Cheddar Cheese
1 cup shredded Cabot Monterey Jack Cheese
2 tablespoons chopped fresh parsley leaves
Directions:
Place spinach, artichoke hearts, cream cheese, sour cream, chicken stock, green onions, garlic, salt and red pepper flakes into a 6-qt Instant Pot®. Stir until well combined.
Select manual setting; adjust pressure to high, and set time for 3 minutes. When finished cooking, quick-release pressure according to manufacturer's directions.
Stir in cheeses until melted, about 2 minutes.
Serve immediately, garnished with parsley, if desired.
Did you Make This Recipe?
Tag @damn_delicious on Instagram and hashtag it #damndelicious.